Altcoin Daily has listed the top 8 coins set to soar as the bull cycle beckons, including Bitcoin and Ether which are set to break out after sustained support levels.
---
The cryptocurrency market has had a terrific start to the year, with most tokens hitting new all-time highs this year. However, according to Altcoin Daily, a fresh wave of bullish runs beckons in the coming weeks. The popular YouTube channel listed the eight top coins set to soar.
Bitcoin is the most popular and valuable cryptocurrency. However, most investors have continued to focus on the smaller coins as they have a bigger upside. Aaron Arnold, the founder of Altcoin Daily, pointed out that Bitcoin is one to watch now, indicating that it's on the verge of a big breakout. He cited Willy Woo, a popular analyst, who noted that $54,000 "is the strongest area of BTC price discovery by long term investors since $11,000."
After we break above what is $62,000 today, it sends us up to the next leg higher.
Looking at wallet flows, $54k is the strongest area of BTC price discovery by long term investors since $11k.

Typically, BTC forms a strong base of price discovery 2-3x above the (prior cycle) all-time-high before launching into bull market highs.

This phase is almost complete. pic.twitter.com/fXWkM1jBAy

— Willy Woo (@woonomic) April 2, 2021
Ethereum has rallied in the past week to set a new all-time high at $2,154. Aaron believes that this trend will continue in the coming months. He cited the continued depletion of Ether on exchanges as a very bullish indicator. With more people unwilling to sell their Ether, the demand outweighs the supply and the price shoots up as a result.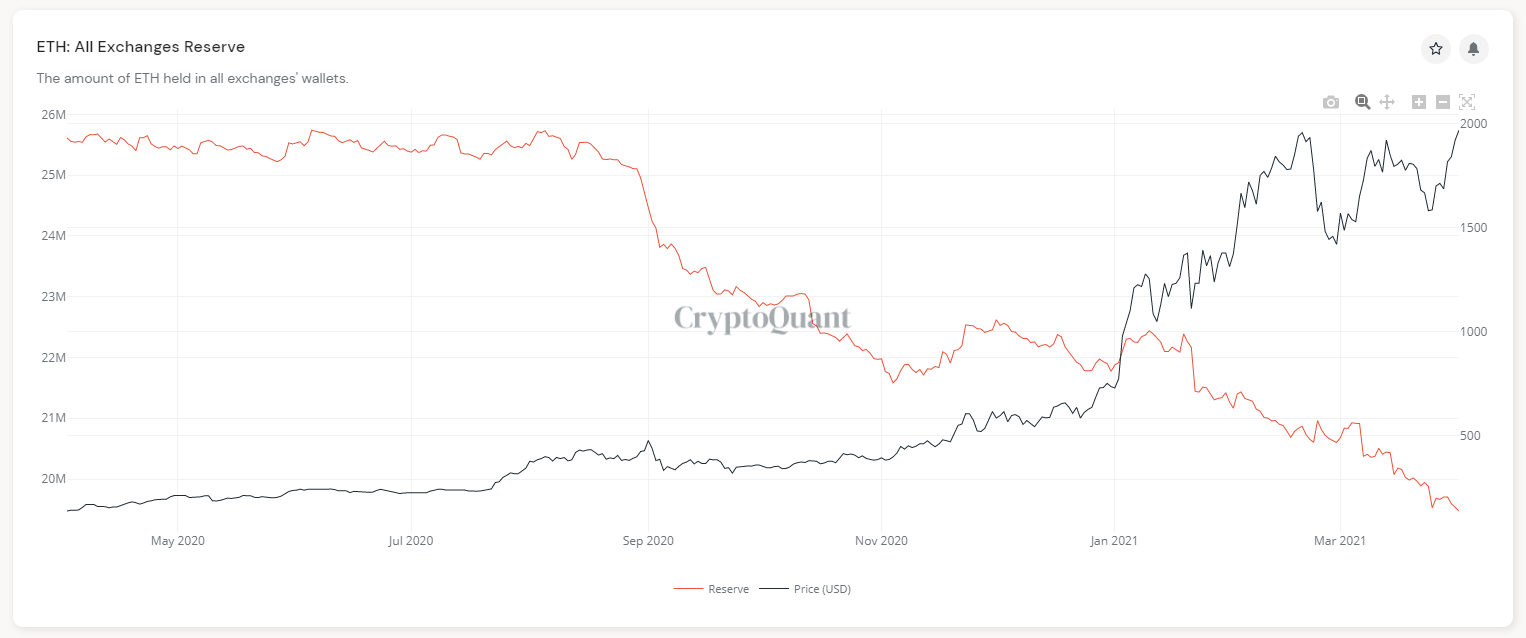 DeFi tokens
Compound is one of the top DeFi tokens to watch, Aaron told his 621,000 subscribers. The lending platform is the DeFi leader in terms of total value with $9.2 billion. In its most recent bullish news, it received 629,000 Ether from a whale investor, worth $1.3 billion yesterday.
Compound's price is just below $500, and to me, this looks like it is in a bull trend.
In yet more bullish news for the entire DeFi ecosystem, Shopify CEO has revealed the e-commerce giant is considering getting involved.
Hey #DeFi Twitter👋. What are the commerce related opportunities that you are most excited about? What role do you want Shopify to play?

— Tobi Lutke 🌳🌲🛒🕹 (@tobi) April 2, 2021
Yearn Finance has continued to record strong price runs and is currently the fourth most valuable cryptocurrency after Bitcoin, Wrapped Bitcoin and Bitcoin BEP2. The project's creator Andre Cronje recently launched Coordinape, a payroll solution for decentralized autonomous organizations (DAOs).
The price is moving up to the right, ready to burst through all-time highs.
At a time when DeFi and NFTs have spurred Ethereum to news highs, rivals have emerged that are threatening its supremacy. One of these is Polkadot, a project that has received support from two of the most popular American exchanges.
Coinbase Ventures, the investment arm of the San Francisco exchange, recently announced its support for a layer-one blockchain seeking to bring full-service DeFi into the Polkadot ecosystem. It invested in Acala and Karura, two solutions targeting Polkadot and Kusama blockchains respectively. Coinbase Ventures previous investments have been massive successes, including BlockFi, Etherscan and Compound.
In more bullish news, Kraken CEO Jesse Powell recently threw his weight behind Polkadot as one to watch. "The other hot coin is Polkadot, which is sort of the next Ethereum. There are a lot of other coins launching on top of this network," Powell stated in a recent interview. He believes that many developers will port their dApps from Ethereum to Polkadot in the near future.
Cardano, yet another blockchain seeking to replace Ethereum, is also one to watch according to Altcoin Daily. While it has yet to have smart contracts, developers have already started minting bootleg NFTs. ADA Technology Management, a Cardano staking pool operator, is one of those minting the NFTs. The firm intends to offer NFT minting-as-a-service to pool delegators.
New partnerships for Theta and Ethernity
Theta has been one of the cryptocurrency projects that has partnered with the biggest companies globally. These include Samsung, Sony and Google. It has now added one more major partner – American entertainment company Cinedigm. The company partnered with Theta Labs to enable its users to earn money by simply watching their favorite shows.
Investors must also keep an eye on Ethernity Chain. The project recently partnered with Kenetic Capital to define the future for digital collectibles.
NFTs in general are moving up into the right. Ethernity specifically is in a little bit of a dip. If I had to speculate, I'd say towards the end of the year, Ethernity will be higher.
Der Beitrag Polkadot, Theta and Yearn Finance top Altcoin Daily's coins to watch erschien zuerst auf Crypto News Flash.