Crypto's shooting up in value, providing a huge wave of profitable opportunities yet again. ProfitFarmers responds with $100 discount for signals and other tools that recently offered its members over 100% gains, several times.
Unless you've been living under a rock, you'll have heard of countless coins suddenly making some insane gains over the past couple weeks.
Fears of Bitcoin becoming bearish below $40k have quickly vanished as a new 60k ATH has the market looking towards the fast-approaching $100k price point.
ProfitFarmers' signals have been offering up nothing short of what I'd call 'Insane Profit Potential' over the past few weeks too. Just take a look at this recently closed trading signal from ProfitFarmers: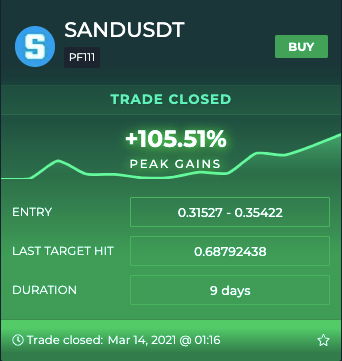 And yes, all of that happened in just 9 days!
Get in on the Profit-Farming action at
$100 less
Start off by thanking Saint Patrick! A recent blog post on ProfitFarmers says they're offering a $100 discount for new members to celebrate the good ol' (Saintly) Irishman.
(To get the discount you need to head over to ProfitFarmers and use coupon code "CRYPTOGOLD" at checkout!)
A discounted price + recent market gains makes this a very interesting time to consider trying out ProfitFarmers. Plus, their copy-trading feature makes trading with these signals very straightforward. It's integrated with Binance, so there's no need to manually execute each order!
But it's not just signals, you also get their exclusive market tools that've been used to find +60% trades in 5 minutes. Just check out their video on YouTube to see how:
Even More Signal Results:
These are two Trading Signals ProfitFarmers talked about inside their St. Patrick's Day blog post:
They mention that "Members even got a heads-up from our experts a few days ahead!"
It looked like this:
If you want to try out ProfitFarmers for yourself, just head over to the St. Patrick's Day blog post that I've been referring to. It'll explain how to get the discount for yourself and more ways you can use their tools to make more profitable trades with less time and difficulty!
Der Beitrag +100% Gains made with ProfitFarmers Signals, now with $100 discount erschien zuerst auf Crypto News Flash.